Color Your Day With Goodness.
In-House & Mobile Services Available
Classic Custom Airbrush Tan

$50

8-12 hour development time, naturally derived ingredients

Rapid Custom Airbrush

$60

1-4 hours development time, naturally derived ingredients

Organic Custom Airbrush

$60

8-12 hour development time, fully organic ingredients
Helps to even and brighten skin tone and reduce inflammation.

Triluronic acid technology that reaches 3 layers of skin for up to 24 hours of intense moisturization to keep skin looking smooth and supple

Helps to stimulate collagen production and cell energy to reduce the appearance of wrinkles, skin imperfections and appearance.

Gives a deeper, darker tan, helps develop a longer-lasting tan and increases moisturization for optimal tanning results.
An all-natural, anti-aging sunless tanner made with antioxidants and pure botanicals, leaving the skin radiant with a natural-looking, golden brown glow. Containing a cosmetic bronzer derived from walnut extracts, our bronzing solution delivers immediate results but continues to develop for 12 hours. The bronzer will wash off during the first shower. Clear the solution.

Rapid Tan sunless tanning solution is enriched with antioxidants and botanicals as well as the highest-grade sunless tanners that leave the skin hydrated, while creating an immediate and natural-looking tan. This formula absorbs and dries quickly and develops in 1 hour. For darker results, it continuously deepens over a 12 hour period creating a tan that lasts 7-14 days. The walnut based instant bronzer will create an immediate color that will be the envy of many.
Certified & Trained
Expert Spray Tan Beauticians
Judgement Free
Every Body Is Beautiful

Mobile Services Available
We'll Come To You!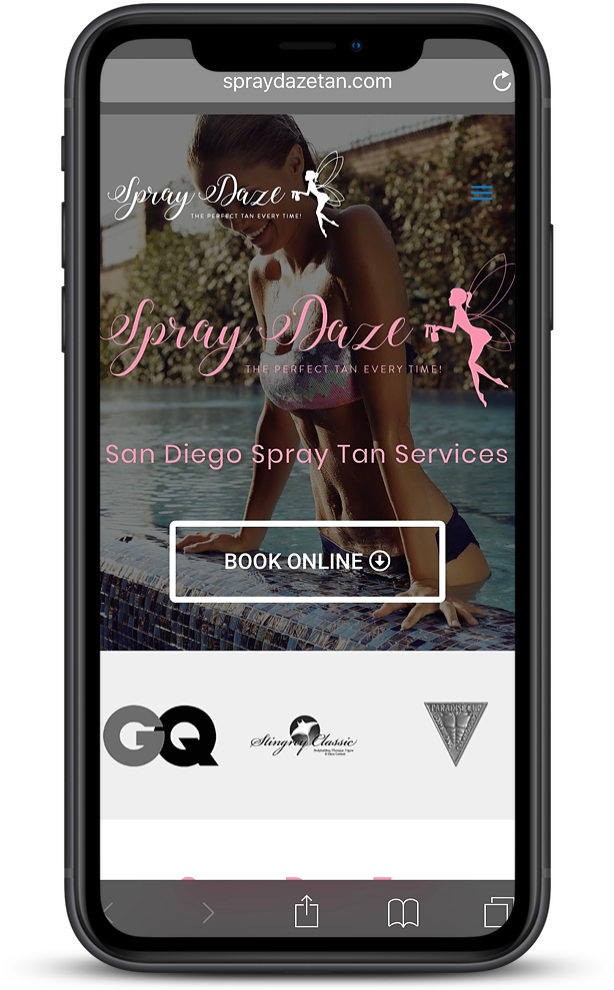 Bookmark Us
For Easy Online Booking
Never Be Left Not Looking & Feeling Your Best!
Bookmark our "Book Online" page to schedule your appointments quickly and easily. Don't forget to save our phone number onto your phone too, (619) 566-8101.
The Perfect Tan
Everytime!