Color Your Day With Goodness.
In-House & Mobile Services Available
In-Studio Airbrush Tan

$45

We'll come to you!
*Mileage charges apply. $0.50 per mile for round trip mileage for any destination over 12 miles from zip code 92101.
Additional $10. (*Always free with any package).
An all-natural, anti-aging sunless tanner made with antioxidants and pure botanicals, leaving the skin radiant with a natural-looking, golden brown glow. Containing a cosmetic bronzer derived from walnut extracts, our bronzing solution delivers immediate results but continues to develop for 12 hours. The bronzer will wash off during the first shower. Clear the solution.

An all natural, anti-aging sunless tanner made with antioxidants and pure botanical, leaving the skin radiant with a natural-looking, golden brown glow. This product was designed for clients who wish to enjoy the ultimate sunless tan without added bronzer. Fully develops in 12 hours.

Rapid Development Ultra Dark sunless tanning solution is enriched with antioxidants and botanicals as well as the highest-grade sunless tanners that leave the skin hydrated, while creating an immediate and natural-looking Ultra Dark tan. This formula absorbs and dries quickly and develops in 1 hour. For darker results, it continuously deepens over a 12 hour period creating a tan that lasts 7-14 days. The walnut based instant bronzer will create an immediate color that will be the envy of many.

A skin rejuvenating treatment made with exotic plant extracts, antioxidants and botanicals to uncover the skin's natural radiance. This treatment is ideal for use after sunless tanning sessions. It can also be used as a treatment on dry skin or skin that is lacking in collagen to revive the elasticity and firm the skin with its tightening attributes.

A fine blend of exotic aloes which assists in hydrating porous areas of the body. This product enables the sunless tanning solution to penetrate uniformly into the skin, resulting in a longer-lasting more even sunless tan. This product should be applied immediately before sunless tanning on low and should be dry before applying the sunless tanner.

An exclusive blend of shimmering radiance infused with emollients and humectants which serve to soften the skin while delivering a delightful glowing effect. This product contains a small amount of DHA, which enhances the tan when left on for 12 hours. The shimmering effect will wash off with the first shower. This product can be used immediately after the spray tan or as a stand alone treatment between sunless sessions or even on those who do not sunless tan to create a subtle shimmering
Certified & Trained
Expert Spray Tan Beauticians
Judgement Free
Every Body Is Beautiful

Mobile Services Available
We'll Come To You!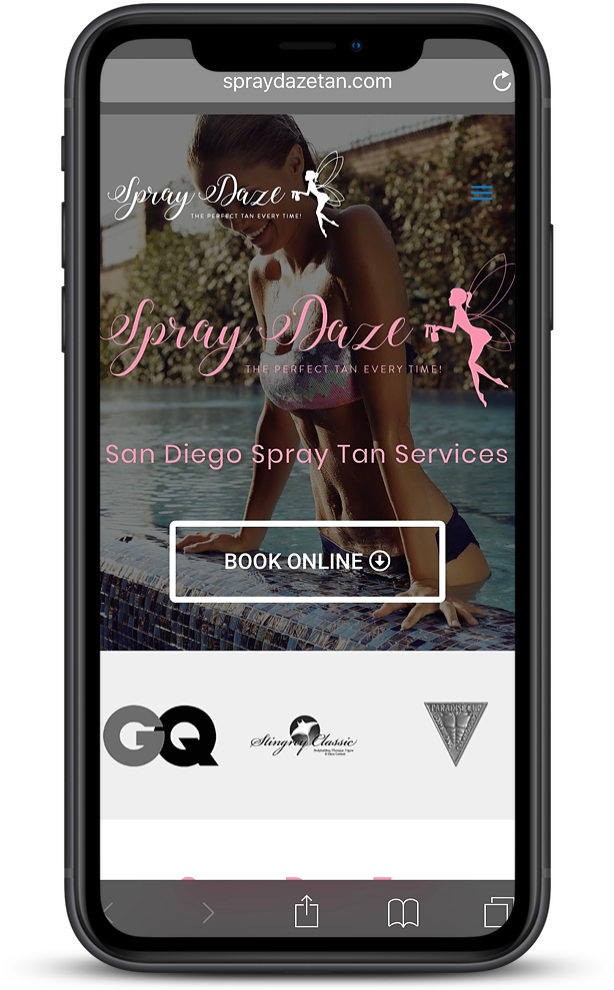 Bookmark Us
For Easy Online Booking
Never Be Left Not Looking & Feeling Your Best!
Bookmark our "Book Online" page to schedule your appointments quickly and easily. Don't forget to save our phone number onto your phone too, (619) 566-8101.
The Perfect Tan
Everytime!