San Diego Spray Tan Services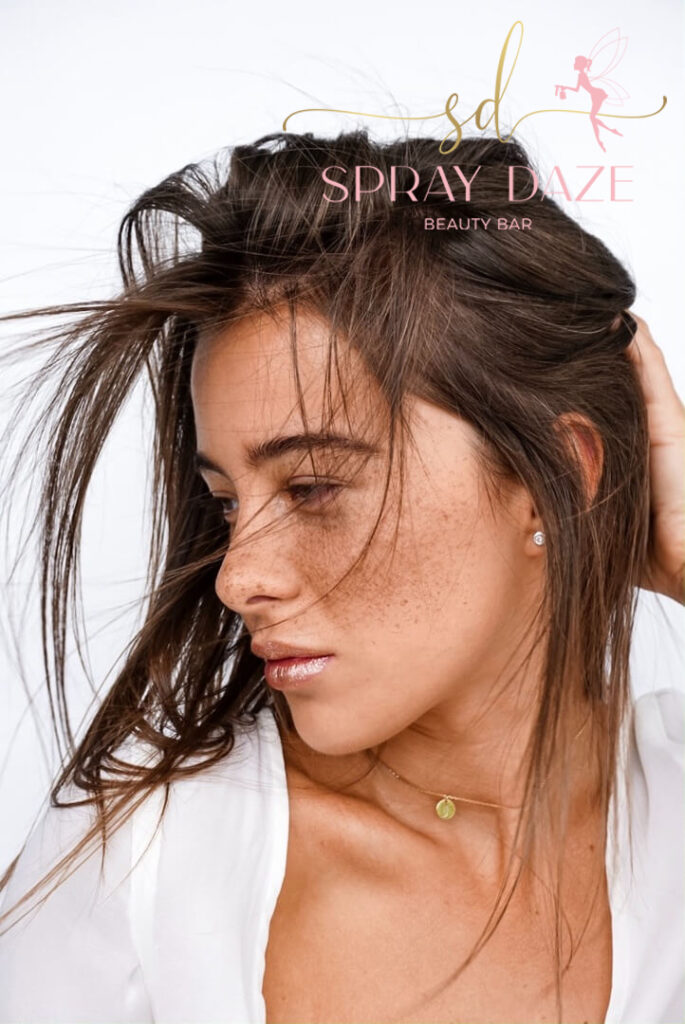 Look Amazing And Feel As Fab As Ever!
Brows • Lashes • Tanning • Makeup • Hair • Boutique
The Beauty Bar at Spray Daze Tan is the one-stop for top-rated professional services in San Diego that'll have you looking and feeling your best.
San Diego's #1 Spray Tan Service!
Release Your Inner Glowing Goddess!
When You Look Good, You Feel Good!
Stop by and get your perfect tan in just 15 minutes or less!
We, at Spray Daze Tan©, have perfected our spray tan solutions for all skin colors and types.
Our customized solutions offer endless variations to provide you with a natural looking and beautiful tan.
We use the highest grade, natural, and non-allergic products to keep your skin healthy and never orange.
Mobile Spray Tan Services
Pamper yourself & come into our studio. Or, we'll conveniently come to you.
Whether it be in the comforts of your home, at the office, hotel room, or out and about, our expert spray tan artist will arrive at your location with the latest & highest quality spray tanning equipment.
Never be left, not looking and feeling your best!
Book Your Appointment Online
Book an appointment right here, right away: Step 1: Select Your Service Step 2: Select Your Tanning Expert Step 3: Select A Day
 Hours Of Operation:
Monday – Friday 9AM – 9PM
For custom times or to make an appointment over the phone, call us at
(619) 566-8101.
Spray Tans By Appointment Only
To schedule a spray tan use our booking app above or call us today!
Spray Daze tan completely mobile too! We'll come to you! Call to inquire
spray tan certification course
Be your own boss and love what you do
Are you ready to embark on a rewarding and lucrative career in the beauty industry?
Our One-on-One Spray Tan Certification Program is the ideal opportunity to master the art of spray tanning and build a successful business in this thriving field.
With a strong focus on hands-on training, individualized instruction from our CEO, and a comprehensive curriculum, you'll gain the skills and knowledge needed to excel in the spray tanning industry.
Alicia Longoria
2023-10-27
I literally am obsessed with Spray Daze, their spray tans are on point! They look so natural. I always book with Juliette, she truly is amazing and makes you feel so comfortable. She always helps me find the exact shade I'm looking for since I'm constantly wanting to go dark one week and light the next. If you are looking for a natural looking, non- Donald Trump tan I highly recommend Spray Daze, their customer service is also exceptional…. I had some questions and the owner called me personally to address them.
Amazing I love everything about 😍my tan was perfect
Danielle Tyson
2023-10-04
Definitely recommend Spray Daze! I've been going here for years and have tanned with several of the girls and each time my tan comes out great! Everyone is friendly and you can tell they take pride in giving you the best tan possible! I will continue to come here for all my spray tans!
Lisa Zyhylij-Ackerman
2023-10-04
Great Tan! Ashley was professional, thorough and so pleasant. Thanks Spray Daze!
Caitlin Schultz
2023-10-03
My sister and I came here a few days before her wedding for spray tans with Juliette. She was incredibly kind, helpful, and reassured us we could come back for tweaks pre-wedding if we needed which put us so at ease. We didn't need to come back however, as the tans were perfect, and we both got so many compliments at the wedding. I was nervous about trying out a new place for such an important event but I would 1000% recommend Juliette to anyone.
I've been coming here for over a year and I absolutely love spray daze. They are so professional and so thorough and absolutely do a consistently good job. And my favorite thing is the pink powderpuff at the end! 👙💕
Highly recommend. Staff is experienced and the tan was amazing and lasted almost two weeks! I got sooo many compliments!
Love, love, love Spray Daze & all the gals there! Rachael gave me my most favorite fab tan again! Best spot in SD!
Rachel is great! Got a spray on Thursday and it's still perfect- 6 days later! She asked what I was getting the tan for to understand my needs and chose the perfect shade. After she was done, she explained how the color would end up and asked if I was happy or wanted to go darker. Definitely will be my go-to girl from now on!
Melissa Kremer
2023-09-20
Tan came out perfect! Wasn't too dark nor too light. Rachael did a great job.
Stay Connected On Instagram
Follow Spray Daze on Instagram for exclusive deals, coupons, optimal tan care tips, and to get featured on our page! We're all family & friends! #staysocial